SRPSD congratulates the Canwood Graduates of 2021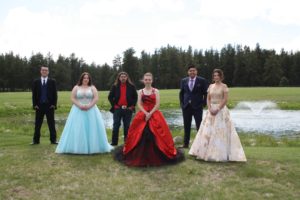 Canwood Public School honoured its graduates with a "drive in' grad ceremony on June 19th 2021. Mother nature cleared the skies and gave us a calm, sunny afternoon for the celebration.
The stage was setup under the Canwood Public School sign at the front of the school. Guests watched the ceremony from lawn chairs, the backs of their trucks or seated on picnic tables by their vehicles. It was a different way to celebrate, but it turned out wonderful.
The graduates were introduced by Mr. Richard Schwehr, the MC for the afternoon, and each took their place on the stage. The history and prophecy was delivered by graduates, Caylah Nelson and Will Schaaf. Mrs. Kori Sansom gave a thoughtful message to the graduated as the guest speaker. Other well-wishers for the afternoon were; Mrs. Cher Bloom (SRSD Board Trustee), Mr. Tom Michaud (Superintendent of Schools) and Mr. Brian Linn (School Principal).
Awards, scholarships and scrolls were presented by Mr. Linn and Mr. Schwehr. Following the presentation Miss Kayleigh Eberts delivered the valedictorian address. Kayleigh completed her speech by congratulating her fellow graduates on all of their accomplishments.
Will Schaaf gave the vote of thanks. He included everyone that helped him and his classmates get to this day in their lives. He also thanked everyone that contributed to the planning and organizing of the ceremony. The final event was a presentation to families. Graduates exited the stage and took roses to where their family members were seated.
It was a wonderful afternoon and a perfect way to celebrate with our graduates. Graduates, family members and staff were very appreciative to have this opportunity to celebrate the accomplishments of the 2021 Graduates in person.