Director of Education Robert Bratvold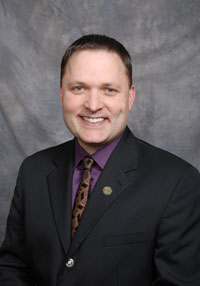 Welcome to Saskatchewan Rivers Public School Division!  Whether you have been part of our community for some time or if you have just joined us, we are glad that you are part of our community.  We are privileged to have our division within Treaty 6 Territory and on the traditional Homeland of the Métis; and Indigenous people are a vibrant part of our past, present and future.  Saskatchewan Rivers Public School Division is held in high regard by local and provincial members of the education sector and you will find this to be a dynamic organization dedicated to student achievement.
The Board of Education is clearly focused on its mission to achieve excellence in education for every learner.  That focus has enabled the division to consistently improve and has empowered staff to provide the best programs possible for nearly 9000 Prekindergarten – grade 12 students in 32 school communities. The diversity of students and families within our community are well-served by dedicated staff members who are focused on ensuring that all students achieve high standards.
The Ministry of Education has set four priorities for all school divisions:  Higher Literacy and Achievement, Equitable Opportunities, Smooth Transitions and System Accountability and Governance.  At Saskatchewan Rivers, we have taken these provincial priorities and used them as a framework to align our division goals, school goals, and individual staff professional goals.  The great number and variety of programs and supports for students all contribute to these goals.
I am excited to be part of this school division and proud of the work we are doing to achieve our goals.  You will see that our focus on literacy is leading to success for students.  Years ago a person was defined as "literate" if they could read and write at an eighth grade level; however our world has changed dramatically over the past few decades.  To be literate today means so much more than the ability to read and write.  We believe that literacy begins with basic skills in reading, writing, math, and other areas but literacy becomes the ability to think, apply knowledge and communicate in all subject areas.  This understanding of literacy guides all that we do.
Saskatchewan Rivers Public School Division is a place of excellence and we are proud of the work we do with students, families and other partners in our educational community.  If you have any questions or concerns, or suggestions, please contact us at your local school or at the Education Centre (306-764-1571 or toll free 1-888-764-1571).  We welcome the opportunity for conversation and look forward to working with you as we pursue excellence for every learner.
Yours in Education, Robert Bratvold Director of Education