Click here to download this page in its original PDF Format.
Click here for our Kisēwātotātowin Powerpoint presentation in PDF format.
Annual Report to
Saskatchewan Rivers Public School Division

Board of Trustees
&

Muskoday Chief and Council
2014 – 2015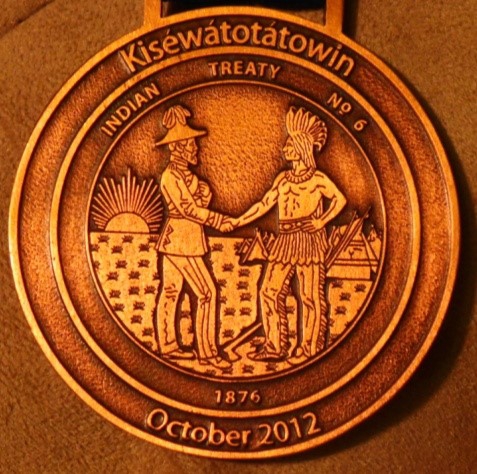 "Together the partners will enhance Education by providing opportunities to promote and engage First Nation Education Principles and will improve learning outcomes for all students in the region"
Kisēwātotātowin Partnership Belief Statement
Core Purpose
To create a mutually beneficial and respectful relationship between Muskoday First Nation, One Arrow First Nation, and Saskatchewan Rivers Public School Division that builds on the strengths of both in providing greater opportunities for all children.
Mission
We will work collaboratively to ensure every student has the opportunity to succeed, proudly building on strengths and celebrating diversity, in a mutually respectful environment.
Vision
Partners creating opportunities for the success of all students
Values and Beliefs
This partnership will be guided by the following belief statements:
Because we believe in inclusion, we will celebrate diversity in a culture of acceptance.
Because we believe in respect, we will build relationships based on honesty, trust, caring, and sharing.
Because we believe in collaboration, we will be open to change by demonstrating flexibility, adaptability, and creativity.
Because we believe in courage, we will persist and persevere in an environment of change.
Because we recognize our shared history, we will celebrate our collective pasts through an ongoing effort to honour the spirit and intent of the treaties.
Because we believe in accountability, we will ensure effective communication with a focus on excellence in learning.
In using the collective "we" in these statements, it is understood that these values and beliefs will be demonstrated in our governance, administration, instruction, and student learning whether or not the students are educated in their home community.
Kisēwātotātowin Partnership
Annual Report
2014 – 2015
Preamble:
Since the inception of the partnership there has been a purposeful and focused effort to ensure that students and school staff are an integral part of the partnership.  Their input was valuable and necessary in shaping the direction of the partnership work.  They were also a critical component in ensuring the success of the partnership.  In order to operationalize the partnership a "Working Group" was established with the primary role of shaping the direction of the partnership work and to facilitate the implementation of the work.  There has also been a focus on ensuring that the partnership is based on personal relationships and the development of an understanding that the partnership should be important to all.
Official Memorandum of Understanding Signing:
Prior to the official signing of the Memorandum of Understanding (MOU) on October 22, 2013 at Muskoday First Nation (MFN), there was an informal partnership between the students at Muskoday First Nation Community School (MFNCS) and Birch Hills School that produced numerous student related activities.  However, with the signing of the MOU a formalized partnership was created thus moving the partnership to a more formalized system level.
Preparations for the MOU signing began in September of 2012 with students from MFNCS and Birch Hills jointly creating two large murals recognizing the importance of "Treaty" and the beginning of their partnership.  The mural project was facilitated by Leah Dorian who had worked with the students in May as part of the Saskatoon Public School Division's Literacy for Life Conference.  Barry Ahenakew was also a facilitator and the entire process was documented on video.
The Saskatoon Tribal Council (STC) served as a key resource in facilitating the development of the MOU document and was instrumental in the creation of an official Partnership Medal that was distributed to participants at the signing.  As well, STC ensured that the Education Bundle was present and used in a significant way at all major events.  The Education Bundle is intended to be used by teachers as a key resource with respect to teaching treaty education.
Working Group:
In January 2014 an informal working group was established, tasked with the responsibility of shaping the direction of the partnership work, suggesting a formalized structure for future work and maintaining student connections.  The group consisted of participants from Saskatchewan Rivers Public School Division (SRPSD) central office and Birch Hills School, MFN Chief and Council and MFNCS staff, representatives from STC and an outside facilitator.
In order to involve more staff with the partnership work, a joint staff meeting was held at Birch Hills to explain the MOU and partnership opportunities.  It was stressed at the meeting that the hope was for partnership to provide meaningful opportunities for students and staff and not become an add-on, as it was to have a curricula focus.
After that initial meeting an electronic survey was completed with staff and the results were shared at a joint staff meeting on April 10th, 2014 at MFNCS.  From the formal data gathered from the survey and structured conversation at the joint staff meeting a number of themes started to emerge.  The first was a genuine feeling of wanting to work more closely as staffs and get to know each other as professionals, individuals and cultures.  They wanted to get to know each other on a first name basis and learn more about the rich cultural history of MFN. There was a desire expressed by a number of people that the partnership would expand to other schools in the SRPSD.  Both staffs identified a need to share resource and professional development opportunities.  Most importantly, there needs to be a focus on creating student connections on a curricular and academic achievement level in addition to one-off activities.  (See Appendix A for more detailed survey information.)
Outcomes to Date:
While the good work continued for students to get together for specific events, the two school principals continually explore ways to have more joint staff activities.  With respect to resource sharing, arrangements were made for the MFNCS staff to access the Teacher Resource Center with weekly school deliveries implemented to further assist the connection to resources.  From March of 2011 to June 2015 there were hundreds of direct student to student contacts between Muskoday and Birch Hills.  At the same time there were staff to staff contacts either as groups or individuals planning opportunities for partnership work.  The working group generated many contacts as the partnership work moved forward.  (See Appendix B for more detailed timeline information.)
Growth Phase Outcomes:
Of equal importance is the work that was started for the 2014-2015 school year that will address the need to develop a better transition for students, more effective staff connection among both professional and support staff, and the development of a governance structure.
Examples this year that are in a growth phase include significant collaboration between Muskoday and SRPSD in regards to:
Student Support Services Department meetings with Superintendent Baergen and SSS team to review transition plans for Muskoday students moving to Birch Hills or Carlton
Integrated Learning Department meetings with the Superintendent Emmerson to discuss and begin linking school year calendars and professional growth outcomes.
Technical Services Department Team meetings to collaborate on our online presence and links to partner schools
Kisēwātotātowin Survey Overview
School staffs were surveyed by the Kisēwātotātowin Working Group (KWG) as a way assessing their knowledge around the MOU.  The survey assisted the KWG with understanding the prior staff knowledge around culture and helped inform decisions on a move forward basis.
The KWG collaborated to gather grassroots feedback from 50 Muskoday and Birch Hills' staff, their answers helped us learn more about the level of understanding of our partnership.  Our custom made survey was created through Survey Monkey and we based our survey questions around:
The current level of understanding of Muskoday F.N. Cultural Traditions
Partnerships activities currently taking place and future possibilities
Professional connections between staff
Student relationship building
Student transition between schools
Relationships with caregivers
The main purpose of the MOU
The main reason for the partnership
Suggestions gathered around respectful extra-curricular activities for schools
Staffs were able to respond in a variety of ways, including open ended answers.  We also had an opportunity for group discussion when we met here for partnership gathering in April.  We used a method of examining the data we gathered from the collaborative learning cycle.  Staff shared their findings from the survey and in particular analyzed any points that seemed to "pop out".
We learned that some tends were emerging from the data we gathered.  This information, of course, is helping the team as we do forward planning.  We noted that 3 key themes:
Resource sharing is important
Cultural connections
Relationships
Attached you will find 2 examples of data collected from the survey.  As you can see from one slide, nearly half of the respondents at the time of the survey were still unsure about what the MOU meant.  The other slide demonstrates the strong importance all respondents noted in regards to smooth transitions from Muskoday to SRPSD schools.
The information continues to be mined as we move forward on our partnership journey together.
Executive Summary
Of Timeline Information
On September 24th, 2012 Mr. Barry Ahenakew visited both the Birch Hills and Muskoday School to tell the story of Creation.  It was this visit that started the foundations of what we would be doing for the next month between both schools.  We decided to target the grade 4 classes from both schools as they meet the year before at Muskoday's Literacy for Life day.  Over the next month the students worked very hard to complete two gigantic murals to be unveiled at the MOU signing in Muskoday.  The MOU was signed on September 22nd, 2012 and the following are some of the events that the students have done together.  The Birch Hills students have attended Muskoday's Literacy for Life day every year since 2012.  Birch Hill's grade 8 & 9 students have attended the Mothers against Drinking & Driving presentation at Muskoday School for the past two years.  On October 29th, 2013 students from Birch Hills attended a Bullying Presentation by Brian Trainor at Muskoday.  This is another event we would like to do every year together.  On June 11th, the Muskoday Kindergarten class was invited to Birch Hills School for their annual Play Day.  Birch Hills has invited Muskoday students to participate in their annual Science Fair for the last two years and these are two more events that we plan on making annual.  There were many other events that happened as a result of the MOU and you can see them on the timeline that we will continue to develop over the years.
The Muskoday and Birch Hills school staff has also had opportunities to get together.  On January 22nd, 2014 Muskoday staff joined Birch Hills at their monthly staff meeting.  The meeting started with a background of the MOU, and then staffs were broken into working groups and discussed how they would like to see the partnership grow.  On April 10th, 2014 Birch Hills joined Muskoday School for their staff meeting.  The teachers were grouped and given tours of the school as most had never been in Muskoday School.  There was also an opportunity for teachers to meet and talk about their classes.  Saskatchewan Rivers Public School Division had a Professional Development session at Muskoday School for the Teacher Resource Centre in Prince Albert.  All of the Muskoday teaching staff now has access to the TRC thanks to the partnership.  Saskatchewan Rivers Public School Division has also given access to the Internet and Maplewood systems at Carlton school for our Transition & Mentor Positions.
Please refer to Appendix D for a timeline of selected Partnership Timeline events this year…. We have been busy!
Kisēwātotātowin Partnership Time Line Events 2014-15
Our first tipi pole is obedience which represents – Muskoday First Nation Community School.
Our second tipi pole is Respect which represents –Saskatchewan Rivers Public School Division.
Our third tipi pole is Humility which represents – Kisēwātotātowin Partnership.
Our fourth tipi pole is Happiness which represents – August 2014:

August 29th SRPSD Rally
Our fifth tipi pole is Love which represents – September 2014:

September 4th, Planning for teachers cultural day at Muskoday
September 9th, Partnership Meeting
September 10-12th, Elders Gathering in Watrous from Muskoday and STC as well as SRPSD Elder Liz Settee
September 18th, Mtg. with Muskoday Elders for their involvement in SRPSD
September 30th, 1st VTRA training level 1 for MFNCS staff.
Our sixth tipi pole is Faith which represents – October, 2014:

October 2nd, Balloon release for the late Jarred Bear. (High schools students present)
October 3rd, Cultural camp for Muskoday and SRPSD teachers – 30+ teachers attended.
Our seventh tipi pole is Kinship which represents – November 2014:

November 5th, Treaty workshop at the Teachers Centre Muskoday Elder Howard Walker in attendance.
November 17th, Holistic Learning model facilitated by Rita Bouvier from the U of S,
November 17th, Scared straight presentation at MFNCS – CCPHS and Birch Hills in attendance.
Our eighth tipi pole is Cleanliness which represents – December 2014:

December 10th, Partnership meeting
December 18th, Grade 8/9 in attendance at Birch Hills Christmas dinner
Our ninth tipi pole is Thankfulness which represents – January 2015:

January 14th, Meeting with STC and SRPSD Special Ed departments at Muskoday First Nations
January 16th, Partnership meeting/presentation in Prince Albert.
January 23rd, Preparing new students for second semester at Birch Hills School
January 30th, PLC Math at Birch Hills school/mentor workshop regarding blue print at Wesmor school
Our tenth tipi pole is Share which represents – February 2015:

February 11th, Partnership meeting in Birch Hills
February 25th, Elder Wilfred Bear presented to Carlton students 10, 20, & 30 classes
Our eleventh tipi pole is Strength which represents – March 2015:

March 4th, MFNCs science fair: Birch Hills Vice principal came to help judge projects
March 11th, Partnership meeting in Prince Albert
March 12, meeting at MFNCS with Birch Hills regarding transitioning students

EA spent 2 weeks at Birch Hills helping with Transitioning students

March 20th, Round dance and Feast at Carlton, some of Muskoday students were Ambassadors
March 31st, Meeting in Melfort with partnership stakeholders
Our twelfth tipi pole is Good Child Rearing which represents – April 2015:

April 27th, Carlton CPHS tour for grade 9 students transitioning in the fall
April 29th, Partnership meeting at Muskoday First Nation

Discussed new staff attending MFNCS balance literacy training in the new school year
Our thirteenth tipi pole is Hope which represents – May 2015:

May 1st, Birch Hills School tour for grade 9 students transitioning in the fall
May 6th, MADD presentation at MFNCS and Birch Hills students in attendance
May 22nd, STC Indigenous Language Celebration City Park Collegiate, Muskoday students presenting.
May 27th, Grade 5/6 class helping with planting trees
Our fourteenth tipi pole is Ultimate Protection which represents – June 2015:

June 17th, Partnership meeting at Birch Hills School
June 17th, Year-end report for stakeholders of Kisēwātotātowin partnership held at Birch Hills School
June 23rd, MFN high school students awards and grad celebration
June 25th, CCPHS Grad, 4 students graduating from MFN
June 26th, Birch Hills Grad
Our fifteenth tipi pole is Control Flaps for wind which represents – July & August 2015:

These two months are to rest and plan for the next school year 2015-16.
Kisēwātotātowin Partnership
PROGRAM SUPPORT
STAFF MANUAL
2014 – 2015
"Together the partners will enhance Education by providing opportunities to promote and engage First Nation Education Principles and will improve learning outcomes for all students in the region"
Kisēwātotātowin Partnership
SUPPORT STAFF CONTACT LIST
Position
Contact
Phone #
Email
Location of Office
Child Mentor Advocate
Conrad Burns
306-763-7672
conradburns@srsd119.ca
Queen Mary

1010 15th St. West

Grad Coach Carlton/Wesmor
Carmen Fourstar
306-922-3115
CFourstar@srsd119.ca
Carlton/Wesmor

Wahpeton DN

Grad Coach Carlton/Wesmor
Rhonda Durand
306-922-3115
rdurand@srsd119.ca
Carlton/Wesmor

Wahpeton DN

Mentor Carlton
Cheryl Ring
306-922-3115
CRing@srsd119.ca
Carlton High School

665 28th St. East

Mentor Carlton
Cory Opoonechaw
306-922-3115
COpoonechaw@srsd119.ca
Carlton High School

665 28th St. East

Mentor Carlton
Lori LeCorre
306-922-3115
LLeCorre@srsd119.ca
Carlton High School

665 28th St. East

Mentor Carlton
BobbiJo Burgess
306-922-3115
BBurgess@srsd119.ca
Carlton High School

665 28th St. East

Mentor Carlton
Michelle Vandevord
306-922-3115
MVandevord@srsd119.ca
Carlton High School

665 28th St. East

Mentor Carlton
Megan Belanger
306-922-3115
MBelanger@srsd119.ca
Carlton High School

665 28th St. East

Mentor Carlton
Shellina Krahn
306-922-3115
SKrahn@srsd119.ca
Carlton High School

665 28th St. East

Mentor Carlton
Barb Pelletier
306-922-3115
BPelletier@srsd119.ca
Carlton High School

665 28th St. East

Mentor Carlton
Wendy Pellegrini
306-922-3115
WPellegrini@srsd119.ca
Carlton High School

665 28th St. East

Mentor PACI
Jim Woodcock
306-763-6485
JWoodcock@srsd119.ca
PACI

45 20th St. West

Mentor PACI
Tara Switenky
306-763-6485
TSwitenky@srsd119.ca
PACI

45 20th St. West

Mentor Riverside
Matt Pelerine
306763-6495
MPelerine@srsd119.ca
Riverside Public School

511 5th Avenue East

Mentor Wesmor
Janet Daigneault
306-764-5233
jdaigneault@srsd119.ca
Wesmor High School

1819 – 14th Ave. West

Mentor Wesmor
Wilma Felix
306-764-5233
WFelix-Schreder@srsd119.ca
Wesmor High School

1819 – 14th Ave. West

Mentor Westview
Scott Burgess
306-922-4094
SBurgess@srsd119.ca
Westview Public School

620 Macarthur Drive

Mentor Support Coach
Judy Arcand
306-423-5482
JArcand@srsd119.ca
Almightyvoice Education Centre/St. Louis
Mentor Support Coach
Mr. Barry Bear
306-953-1055
BBear@srsd119.ca
Muskoday FN/Birch Hills/Carlton
Student Transition Worker
Ms. Cheryl Murphy
306-953-1055
CMurphy@srsd119.ca
Muskoday