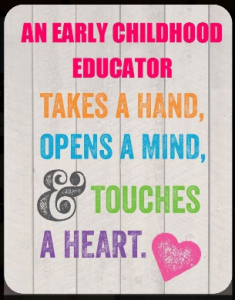 Our community is becoming more aware that children begin learning right from birth, and it is very important that parents and early childhood educators are providing early learning that supports positive child development.  We know that parents are a child's first and most influential teachers, but many children are also supported in their development by other caregivers, including childcare educators.  As part of this, the month of May has been proclaimed Early Childhood Education Month, and the government has specifically proclaimed May 13th Early Childhood Educator Appreciation Day.
To supplement the efforts of our early childhood educators, Play. Learn. Grow. Together! was developed as a public education program which provides parents and guardians of newborns to Kindergarten-aged children with easy to use tips and information.  The webpage and family-friendly videos can be found at www.saskatchewan.ca/residents/education-and-learning/prek-12-education-early-learning-and-schools/early-years-learning. This is a useful online learning resource to help families with at-home learning opportunities for their children during the pandemic
"In these unprecedented times, we all can recognize how important child care support is for many families who want to pursue career and education opportunities or work to provide for their families," Deputy Premier and Education Minister Gordon Wyant said.  "On behalf of the Government of Saskatchewan, I want to thank Early Childhood Educators for continuing to make a tremendous difference in the lives of families and ensuring children are safe and well cared for."
Saskatchewan Rivers Public School Division celebrates the important work that Early Childhood Educators do for our children and our community.  Let's celebrate May 13th with a salute to an Early Years Educator.