SHELLBROOK ELEMENTARY THANKS LOCAL TUPPERWARE BUSINESSES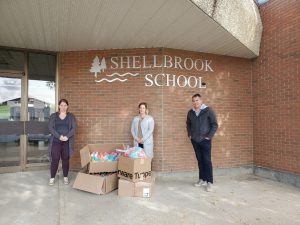 Shellbrook Elementary Public School is so incredibly thankful for a recent donation of 200 Tupperware water bottles for all the students and one for each staff member.  With the support of customers, inventory, and personal commissions Cindy Jess and Richelle Anderson partnered together their Tupperware business to fundraise enough water bottles for each student and staff at Shellbrook Elementary.
Through a fun business challenge, we send a huge thank you to Quinn Tait at Tait Insurance for the donation of 50 bottles.
Thank you to all who made this possible!!  Your support shows how great of a community we live in!  Stronger together!  Be safe!