The third annual SRPSD Ribbon Skirt and Ribbon Shirt Day is Wednesday, March 8th. The inaugural division wide Ribbon Skirt and Ribbon Shirt Day was to stand in solidarity with now 12-year-old Isabella Kulak, a member of Cote First Nation, whose story gained national attention and started a movement when she was shamed for wearing a Ribbon Skirt to School in 2020. If you are unfamiliar with her story, please take some time to learn about Isabella's story as it's one of pride, resilience and empowerment.
https://www.cbc.ca/news/canada/saskatchewan/indigenous-students-ribbon-skirt-school-1.6069359
"When I wear my ribbon skirt, I feel proud and confident to be an Indigenous girl.
And I'm not alone."  – Bella Kulak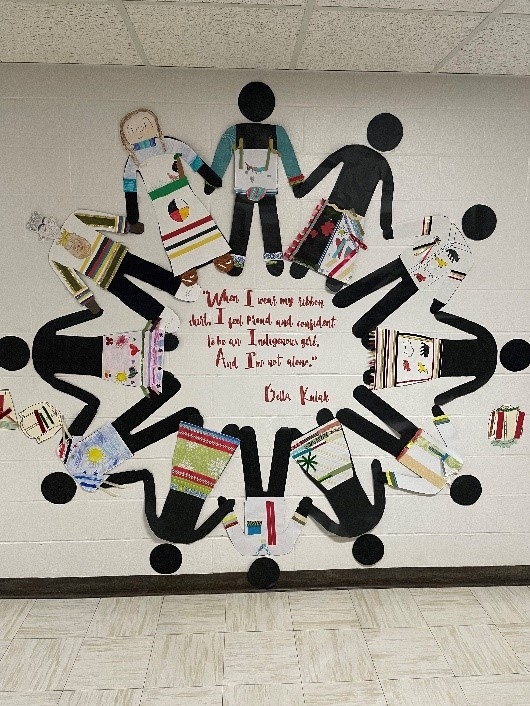 This image is from King George Public School. It's a powerful example of what many schools in our division are doing to honour Ribbon Skirt and Ribbon Shirt Day.
Those who have a ribbon skirt/ribbon shirt and have the teachings and story connected to it are encouraged to wear it with pride, to share the story and to feel empowered. We recognize that not everyone may have a ribbon skirt or ribbon shirt and for many it is not part of their culture or story, so a few options will be provided so everyone will able to demonstrate solidarity with Indigenous people. Wearing an article of clothing from one's own culture, wearing any skirt, or creating a pin of a ribbon skirt or shirt are ways SRPSD students and staff will create space and show respect for Indigenous people. The importance of this day is also in the rich learning about Indigenous ways of knowing and being, the teachings shared, and in the many deep conversations, it promotes.
The SRPSD Indigenous Perspectives Team has provided two Ribbon Skirt Professional Development opportunities, led by co-author Bonny Johnson.  Teachers who took part in these workshops learned the history and teachings connected to Ribbon Skirts and sewed their own.  The team has also shared relevant resources with teachers in preparation for this day and organized virtual sessions with local artist and author Leah Dorion who will share her Ribbon Skirt teachings.  Sînapân kîskasâkâs A Guide to Making Contemporary-Style Métis Ribbon Skirts is a wonderful resource which takes you through step by step on how to make your own skirt, but also touches on the history of ribbon skirts and teachings along the way.  It is co-written by Bonny Johnson, a SRPSD teacher and Leah Dorion, local Metis artist.   https://gdins.org/product/sinapan-kiskasakas/
https://blackflash.ca/expanded/between-the-ruffles-metis-storytelling/
https://paherald.sk.ca/love-in-every-stitch-creates-new-artists-through-a-ribbon-skirt/
The road to reconciliation is paved by the commitments of all of us to do our part to create safe and inclusive learning spaces.  Thank you to school communities and the greater Prince Albert community for truly embracing this day as one where we can all stand in solidarity with Indigenous people and move forward together in the spirit of reconciliation.