SRPSD Congratulates PALN's LaVera Schiele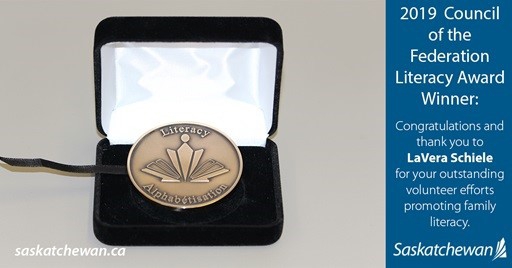 The Prince Albert Literacy Network (PALN) has done outstanding work on its own and with SRPSD for many, many years, and LaVera Schiele has been a part of that work.  Her efforts have recently been recognized by the awarding of the 2019 Council of the Federation Literacy Award (COFLA). This award was created in 2004 by Canada's Premiers to recognize outstanding achievement, innovation and excellence in literacy in each of Canada's provinces and territories.
In its media release, the Government of Saskatchewan recognizes the significance of LaVera's work.  Deputy Premier and Education Minister Gordon Wyant said, "I want to applaud LaVera on a much deserved award that pays tribute to her unwavering dedication to improving family literacy programs."
Literacy is a core focus in SRPSD and an essential part of life.  The work of LaVera and the PALN has helped many young people and families succeed.  The hard work and dedication is appreciated and it is wonderful to have her work recognized in such a prestigious way.  Congratulations!