SASKATCHEWAN RIVERS RECEIVES PREMIER'S AWARD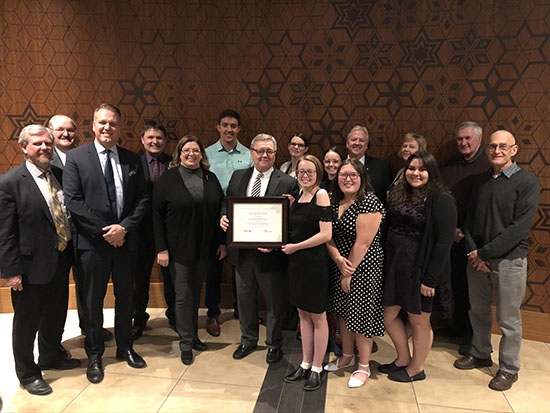 REGINA – Saskatchewan Rivers Public Board of Education and Saskatchewan Rivers Students for Change have received the 2019 Premier's Board of Education Award for Innovation and Excellence in Education for the submission of "Empowering Students and Responding to Student Voice: A Student-led Pathway to Improve Student Outcomes."
The Saskatchewan School Boards Association (SSBA) co-ordinates the Premier's Award each year. The award was presented on behalf of Premier Scott Moe during the SSBA Annual General Assembly on Monday evening in Regina.
"Congratulations to Saskatchewan Rivers School Division for winning this year's award," Honourable Lori Carr, Minister of Government Relations and MLA for Estevan, said on behalf of Premier Moe. "The Saskatchewan Rivers Students for Change council will give students valuable leadership skills and an opportunity to have their voice heard by the board of trustees. This experience will benefit them well beyond high school."
In its application for the award, Saskatchewan Rivers said its board, along with a team of students, implemented a division-wide council known as the Saskatchewan Rivers Students for Change, which regularly discusses challenges and opportunities, takes part in leadership and learning, plans actions and events and advocates for student learning and well-being. The council provides advice and perspective directly to the board through elected student trustees.
"School board trustees work to ensure that the students in their schools get a good education and have positive experiences as they learn," said Barry Hollick, Saskatchewan Rivers chair. "We are so pleased that this initiative to involve students in the governance of our school division provides them the opportunity to lead change and affect student achievement and outcomes. It has also enhanced the board's awareness of student concerns and issues."
The $3,000 award has been sponsored by Xerox Canada since its development in 1999, making this year the 20th anniversary of the award program. The award recipient is recommended by a panel of education sector partners.
"Xerox is proud to again sponsor the Premier's Award," said Karl Boissonneault, Vice President, Canadian Channel Operations, Xerox Canada. "Xerox has seen many changes over the almost 50 years of our existence and also made fundamental contributions to how work gets done every day. In celebrating the 20th anniversary of our partnership, we are excited that we can once again do our part to support school boards to bring innovation to the forefront and ensure that we continue to invest in and improve the future education of our young people."
The Premier's Award recognizes educational innovations and improvements focused on student achievement that have been advanced or directed by school boards. The prize is used to support or extend the innovation or project.
"Upon the 20th anniversary of this program, we are very appreciative of Xerox Canada for highlighting the great work being done by school boards throughout the province," said SSBA President Dr. Shawn Davidson. "Each submission is worthy of recognition for promoting efforts to help ensure success for all students. Congratulations to the recipients."
At its assembly, the SSBA also recognized Bernie Howe (Prairie Spirit Board of Education) with a life membership.
For more information regarding the Premiers Award click here.