Kinistino and Canwood Grads 2020
Saskatchewan Rivers Public School Division
recognizes the
Graduating Class of 2020
Kinistino Public School
The 2020 Grads of Kinistino Public School are a tight-knit bunch.  Most of them have been together since they were in Pre-K!  They consider each other a second family and as families do they love to tease each other relentlessly, fight like siblings and support each other in tough times!  As they move on to their new path whether it's university, jobs or travel, they know they will stay connected and continue their relationships for years to come!
Staff
Canwood Public School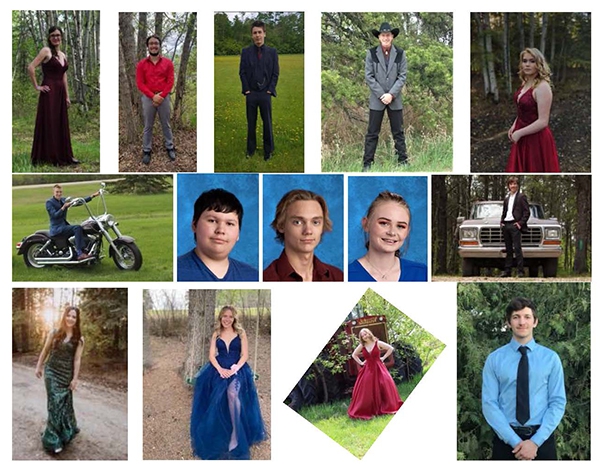 Canwood Public School honoured the graduating class of 2020 with a virtual ceremony on June 19th. The video included history and prophecy, a thoughtful valedictorian address, presentation of scrolls, subject awards, character awards and scholarships, as well as heartfelt messages from staff. Many of the students in this class have been together since kindergarten and have developed lifelong friendships. During the suspension of classes, they have continued their studies through supplemental learning, found employment and helped out on family farms. They are a fine group of hard working and determined young men and women.
On behalf of the staff and student of Canwood Public School, we wish the Graduating Class of 2020 all the best in their future endeavors. They are a group to be proud of and we know they will go out into the world to do great things.
Congratulations, Class of 2020!
Staff