Family Literacy Day is January 27, 2018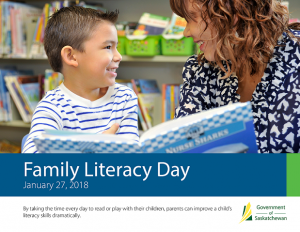 The Government of Saskatchewan has proclaimed Saturday, January 27, 2018 as Family Literacy Day in Saskatchewan. Family Literacy Day is a national initiative held every year to raise awareness of the importance of reading and engaging in literacy-related activities as a family.  This will be the 20th year Family Literacy Day is proclaimed in Saskatchewan.
"Family Literacy Day is an opportunity for families to learn and grow together," Education Minister Bronwyn Eyre said.  "By taking the time every day to read or play with their children, parents can improve a child's literacy skills dramatically.  I encourage everyone to celebrate by taking some time to read together.
Saskatchewan Rivers schools focus on literacy all year long, but we have been celebrating Family Literacy week with many special events.  Other literacy events will be held across the province to mark this day, including the Prince Albert Literacy Network's Read, Move, Share! free event in the Gateway Mall on Saturday January 27 from 1:00-4:00pm.  Please join with your family to celebrate Family Literacy Day!