SMA Summer Music Camp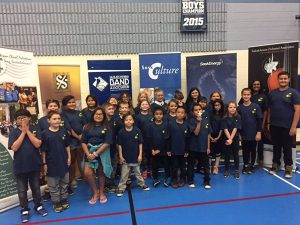 Summer music camp was a hit!  Grade 4-8 SRPSD students from various schools had the opportunity to participate in a four day SMA music camp held at W.J. Berezowsky School in July.  Students tried their hand at wind, percussion and string instruments and sang together as a group each day.  The camp was a great opportunity for students to improve on their skills, try new instruments and make new friends. Students showcased their hard work and talents on the last day of the camp with an amazing concert for family and friends.
The SMA Summer Music Camp was made possible by SaskCulture and the Dream Broker Program.  It was organized in partnership by The Saskatchewan Band Association, Saskatchewan Choral Federation, Saskatchewan Music Educators Association and the Saskatchewan Orchestral Association.  We would like to thank all the facilitators for making this camp a success.  These dedicated people and organizations take pride in organizing a music camp that encourages musical involvement and activity without barriers. A long term goal of this camp is to encourage students to take a leadership role in expanding musical opportunities in their community.